Contact Jessie if you would like to set up a reading or a speaking engagement, or if you would like further details about upcoming events.
We're excited to announce that Jessie's collection of portrait essays, The Long Weeping, is now available for pre-order and will be released with Orison Books in November 2017.
Jessie's fiction has been selected for inclusion in the newly-released anthology, Eyes Glowing at the Edge of the Woods: Fiction and Poetry from West Virginia. Order here and read the Kirkus Review.
Read "Sunday Morning Coming Down," a new essay by Jessie in Willow Springs 79 (Winter 2017).
Jessie's second novel, My Radio Radio, was released in the spring of 2016 with Vandalia Press, the creative imprint of West Virginia University Press.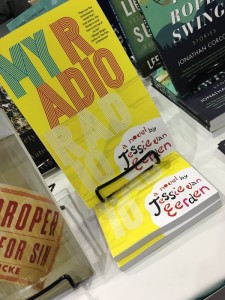 EVENTS
Nonfiction workshop instructor at the 2017 Tennessee Mountain Writers Annual Conference in Oak Ridge, TN, April 6-8, 2017.
Reading with the Travelin' Appalachians Revue, June 24, 2017 at 8 pm at the McNemar House, 112 Paradise Road, Buckhannon, WV.
Reading from The Long Weeping, February 15, 2018, at Berea College, Berea, KY.
Reading from The Long Weeping, March 7, 2018 at 7 pm at Saint Leo University, Saint Leo, FL.