The Long Weeping, Jessie van Eerden's collection of portrait essays, was released with Orison Books in November 2017.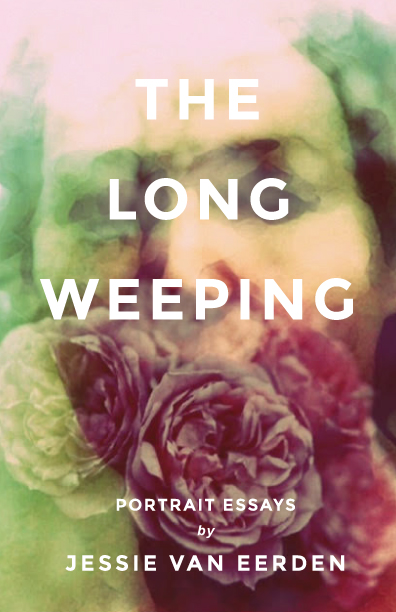 Order from Orison Books or Amazon.
Read a starred review in Foreword Reviews.
ABOUT THE BOOK:
In this collection of portraits, the eye is the vital "lamp of the body," a spiritual organ van Eerden uses to craft essays that are as much encounters as they are likenesses, as much being seen as seeing. Historical subjects like Simone Weil and the Beguines confront the author's imaginative and intellectual being, while the viscerally close foci of family and a lost marriage must also be reckoned with. The author's religious tradition and the rural landscape of Terra Alta, West Virginia are two backgrounds that are neither chosen nor fully understood, but van Eerden's attention to these matters becomes its own form of devotion, a longing to see and to believe—the longing itself taking on the robustness of faith. This is the common goal of these essays, to fully meet each subject and return to it some form of wholeness, a quest full of lush imagery and insights.
Advance praise for The Long Weeping:
"Jessie van Eerden's wholehearted essays are acts of ardent and radical comprehension, contending with mysteries and memories that would lead many to declare an impasse, or to employ miniaturizing disdain. Van Eerden is too adventurous a comprehender to be easily thwarted, though, and she is too serious for disdain. In these portrait essays she takes all of her subjects seriously—the "Woman with Dog with Mange," the concubine shooing the birds away from her sons' dead bodies, the checkout lady at the Dollar General, as well as her younger self, who at the time felt herself "scruffy and insignificant." Here is no nefarious regularizing of the past or imposition of ideology; here is the shock of experience—funny, warm, odd, grievous—in a West Virginia childhood, twelfth-century Belgium, or an interior desert where you learn how to love. Like someone fleeing to the desert from supposedly desirable, supposedly enviable things, Jessie van Eerden's book is "mad for something else" and I was thrilled to follow her."
—Amy Leach, author of Things That Are
"In these startlingly honest and imaginative essays, van Eerden enlarges the world around her, giving flesh to what is all too often flattened by the outside eye, anointing places and people and the throbbing spaces between them as she searches out and sings litanies to what she calls the "larger body I belonged to and could not leave." Lush and razor-sharp, The Long Weeping shimmers with intelligence and grace. The truest essays I've read in a long time."
—Sonja Livingston, author of Ghostbread, Queen of the Fall, and Ladies Night at the Dreamland
"Van Eerden is one of the best essayists working today if judged by her craft and intellect alone, but her gifts go beyond those: she is also one of the most honest. The Long Weeping turns a visionary eye and a laser mind on subjects often simplified or even scorned by contemporary culture: white poverty; mysticism; love of family; the wisdom of modest people. Van Eerden is brave enough to say the hard things. She's strong enough to love the hard places."
—Ann Pancake, author of Given Ground, Strange as This Weather Has Been, and Me and My Daddy Listen to Bob Marley