Glorybound, Jessie van Eerden's debut novel, released with WordFarm in 2012, won the 2012 Editor's Choice Fiction Prize with ForeWord Reviews' Book of the Year Awards.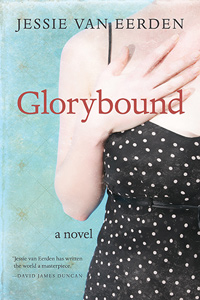 ForeWord reviewer Michelle Anne Schingler said, "Lyrical, heartbreaking, and dazzling in its unobtrusive authenticity, van Eerden's first novel is an affecting delight." Read the full review.
Read a novel excerpt online in Memorious: "Stores of Mercy."
Click on the cover to order from WordFarm at 20% off.
Or buy from Amazon.com
"Jessie van Eerden possesses a visionary's unswerving gaze and a poet's ear. Van Eerden fearlessly explores faith as it is borne on the body and carried as curse and blessing both. A redemptive story of scope and miracle, loss and reunion, voice and silence, Glorybound shines with an interior light so fierce and lovely one cannot be anything but utterly astonished."
—Gina Ochsner, author of The Russian Dreambook of Colour and Flight, People I Wanted to Be, and The Necessary Grace to Fall
Synopsis:
In the drought-ridden mining town of Cuzzert, West Virginia—population 335—the only things that change are the price of cigarettes and the roll call at the new local prison. Time has dried up like the rain, but two sisters, Aimee and Crystal Lemley, are hell-bent on becoming prophets at Glorybound Holiness Tabernacle, the basement church where their father Cord Lemley was preacher before he skipped town. For ten years, without a word from Cord, the sisters have taken care of their mother Dotte while doggedly keeping the holy vows they took as teenagers after their father left: the plain but perceptive Crystal has kept stone silent, and Aimee—though vulgar and plenty pretty—has kept chaste.
The sisters are well on their way to prophethood when they find out their father is now serving time at the nearby prison. They're prompted by Aubrey Falls, a naïve VISTA teacher from Chicago, to visit Cord after Aubrey learns from Cord's writing assignments that the washed-up preacher is starving himself to death. What begins as a good deed for Aubrey, who is quickly captivated by Aimee's short skirts and baffled by her holy vow, soon becomes a journey of intrigue into the very heart of Cuzzert—a place where sacred consorts with profane and where stores of mercy prove as rich as the mountain's coal seam. The sisters are left to decide if reunion with their father is possible when, unexpectedly, Crystal's estranged sweetheart Ronnie Sisler returns home. After a serpent-handling service turns tragic and ruptures the stagnation of life in Cuzzert, the Lemleys discover that their path to grace will require a final reckoning with the past.
More Reviews:
"'Patriarchy' is a target so easily and often hit it reminds me of a road sign we can no longer read for all the bullet holes. Cord Lemley, the hill prophet and patriarch of this great novel, is something else again. Cord's voice kindles instant fire in the mind. He makes Pope Benedict, by compare, sound like some wishy-washy Unitarian. Cord's presence is a blast furnace of faith. His disappearance is a faith vacuum. To join his abandoned, beautiful daughters in this vacuum as they wrestle the angels of Presence and Absence is to live the central koan of the Christ-haunted South. Whether this world deserves it or not (Cord would say not), Jessie van Eerden has written the world a masterpiece."
—David James Duncan, author of The River Why and The Brothers K
"What do we hope for when we pick up a new novel, when we take a chance on an author we haven't read before? For a story, a new voice? And what do we get when we turn the pages of Jessie van Eerden's Glorybound? More. Stories, yes, but a world too, in which they happen. And voices, wonderful voices. Voices you want to go on listening to though you've turned the last page of the novel, and you're sitting in your chair, holding the book, not wanting to put it down, because you know you can never pick it up again for the first time, and that makes you feel something like grief. A first novel by a new author, you thought it was an audition. And it was, when you understand that audition is what you hear when apparition is what you see. When you look again at the author picture on the book jacket you'll think it's not possible that a woman so young could have written Glorybound, and about that you'll be right; it's not possible, it's miracle."
—Kevin Oderman, author of Going and How Things Fit Together
"In Glorybound, Jessie van Eerden has created two remarkable characters: Aimee and Crystal Lemley, small-town sisters whose complex desires to become prophets at Glorybound Holiness Tabernacle are dramatically unraveled by their prophesying father's imprisonment. The novel's Prologue sets up both a metaphoric and dramatic tension: vision and the gift of prophesy can be both transgressive and transformative… This is an old-fashioned story, a beautifully rendered, character-driven novel in which the hidden past converges with the precarious present, revealing the inevitable strengths and tensions of family ties."
—Patricia Foster, author of All the Lost Girls, editor of Minding the Body: Women Writers on Body and Soul and Sister to Sister